Description
Specifications
Liquid for root canal rinsing
Chlorhexidine digluconate is used as rinsing and antibacterial agent. It is more efficient than sodium hypochlorite against such microorganisms as E.faecalis that are often responsible for unsuccessful endodontic treatment.
Active substance:
chlorhexidine digluconate 2%
Available packages:
bottle of 200g
adapter
Properties:
Recommended for rinsing of the root canals with pulp inflammation.
Highly recommended for endodontic re-treatment.
Highly efficient against Enterococcus faecalis (bacterial strain immune to NaOCl).
Do not cause teeth discoloration.
Related Products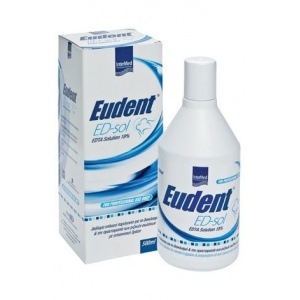 Eudent EDTA solution 18% 500ml
EDTA solution 18%Root canal preparation and disinfection.EUDENT ED-sol is an aqueous solution of EDTA 18% of low viscosity, enhanced with Cetrimonium
1470
Store Price: 35,00 €
31,50 €